Thanks in large part to my dad, I've always liked the game of golf despite its early indifference to me and my lackluster swing. Once we started volunteering for the U.S. Open and other USGA events together I grew to enjoy scoring tournaments – watching far better swings and bearing witness to those who played the game in the elite amateur and professional ranks.
But it was one remarkable weekend in September of 2009 that changed my relationship to the game and sharpened my passion for the men and women who play it at the highest levels. Specifically it was being randomly assigned to keep watch over Peter Uihlein, a 20-year-old Oklahoma State golfer I'd never heard of, as he played his singles matches Saturday and Sunday of the Walker Cup at Merion Golf Club.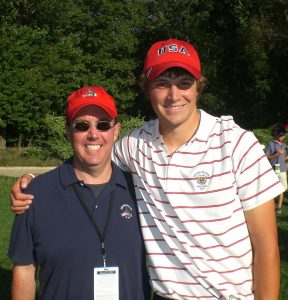 He was nervous and confident in about equal measure, wore his heart on his sleeve, joked and chatted without reservation, and hit some of the greatest pressure golf shots I've ever seen – more than eight years later I still remember a dazzling one-iron from 285 yards uphill on the 2nd, a shocking chip-in on 16 after missing the green across the quarry (and the ensuing low five he loudly administered to my left hand) and the emotion of a magical putt on the 17th to secure an American victory.
While I've scored dozens of tournaments since that weekend in Philadelphia I've never crossed paths with Pete again as a volunteer. He's played most of his golf on the European Tour since turning professional in 2012 and though I've volunteered at two U.S. Opens and one year of the final Race to Dubai tournament where he was playing my assigned times never overlapped with his rounds. So while I've watched him play as a fan and walked inside the ropes during a practice round or two it wasn't until November of 2017 that I'd get the opportunity to volunteer alongside the kid as a pro.
It was my fourth year scoring the DP World Championship, the final event on the European Tour's Race to Dubai, and potentially my last – the world is large and there are golf tournaments everywhere; as much as I enjoy this event and location, I was getting the itch to devote time and money to explore new ones. I informed my three scoring buddies Monday while we perused our assigned tee times for the week to not count on me for 2018. The European Tour scoring folks have been very good to the four of us, assigning us times close together so we could share Ubers and taxis – this year our scoring times got better each day until Sunday when one of us would very likely score the tournament champion. That is always exciting stuff.
To a man, they each volunteered to swap rounds with me if they had the opportunity to score Pete but none of us did in the first round. However, with a reshuffle each day anything could happen – but Pete would have to play some pretty good golf as the weekend progressed. As the final shots fell Thursday, Pete recorded a one-under round and it became apparent he'd fallen right into my Friday round, Group 12.
On a bright sunny Dubai morning, he shook my hand on the first tee and with a wry smile said, "Hi, my name is Pete." I responded that mine was Mike and pointed to my nametag – "and it's right there if you forget" I said with a smile.
Amazingly, his four-under round Friday landed him into my Group 23 the next day and his bogey-free seven-under round Saturday put him three back of the lead in the fourth group from the end – my assigned Group 27.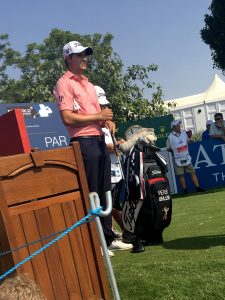 Anyone with internet access can go back and look at exactly how Pete played those three rounds in Dubai – and could probably piece together the state of his health after a WD the week before while tied 10th after the first round in South Africa. Suffice to say despite battling his stomach, his golf in Dubai was strong, his iron play was often masterful, and his swing looked as good as I'd ever seen it – more simple, compact and repeatable – but the joy was simply being there inside the ropes, hearing the laughter, listening to the chatter, seeing the smile, and witnessing the kindness in how he treated competitors, volunteers, family and fans.
The occasional call for a referee was done by name: "Hey Mike, can you call for a Rules official?" he'd yell over to me. The rare commentary from me to player included a name as well – even when I tried to hold it back, a chip-in or long birdie putt might find me blurting out "Attaboy Pete" or "Yes! Great shot Pete." Sometimes I just silently pumped my fist or grabbed eye contact with his mom as she darted to the next hole.
I could score with integrity and impartiality, but I was rooting for Pete Uihlein as I've done weekend after weekend for years – as a college golfer, over summers of amateur golf, and as he's crisscrossed oceans and continents pursing his professional dreams.
For three straight days instead of refreshing the app at home, I was blessed to get a bit of a sunburn, stand just off every tee, walk a few steps behind him down every hole and linger by the greens for three consecutive rounds – rounds that had their share of magical moments and missed opportunities for sure, but rounds that resulted in a mere three bogeys and 17 birdies.
As it was years ago, Pete's passion bubbled just below the surface, as did his kindness and his own unique charm. Just as it had been at Merion, there was the occasional wink or head nod as he silently made his way from green to tee after an extraordinary shot or memorable hole – par save or birdie alike. The kid knows I'm a fan.
Victory was not to be, but another top 10 was a strong finish to the year – a year that saw him secure his PGA Tour card, retain his European Tour privileges and move into the top 60 players in the world. Jon Rahm won the tournament and Tommy Fleetwood captured the yearlong Race to Dubai trophy… the same Tommy Fleetwood who fell to Pete 2 and 1 many Saturdays ago back at Merion's 17th hole in the 2009 Walker Cup as I walked along and looked after Pete as the USGA had assigned.
Since that weekend at Merion, Pete and Tommy have begun to make their mark on the game and I've gotten to know and care about two or three additional golfers I root for with something akin to the same sense of passion, fear and excitement that parents exhibit watching their children compete.
But Pete was the first – and is largely responsible for me knowing the other golfers as well as I do.
Back in 2009 he let me feel the game and get wrapped up in the character of the players as much as the results. Scoring golf is always exciting and always a privilege, but scoring someone your heart roots for week in and week out and whose dreams you get to share is a step beyond what I imagined it might be. It was another handful of days I can never forget thanks to an extremely talented and unique character I've grown to love.
So while my dad and I still tee it up and play the game we both enjoy, we share an equal passion for the men and women who play the professional game – and communicate every week of the year about the golfers we follow who have found a place in our hearts.
There is no doubt the profound joy and wonder we've both found as volunteers is deeply rooted in a single experience – those 34 holes I was blessed to walk with a quirky, talented young Pete Uihlein. From the other side of the world on a golf course called Earth, the point was reinforced and the joy expanded eight years later.
I flew out of Dubai not sure I'd see the city again. But I flew out with a strong suspicion that the best is yet to come in the game we share – for dad, for me and especially for Pete.