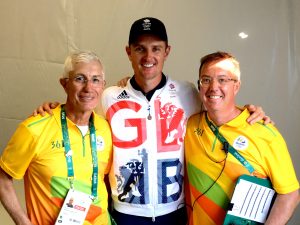 While it may not exactly be my story to share, I'm not sure anything better sums up my experience at Olympic golf than Justin Rose's Facetime call to his kids right after he signed his scorecard.
In a very short call, his son compared the Gold Medal to a medal he'd recently won at a soccer tournament and closed the call by warning his father not to trip on the medals podium. It was one of many human moments that transcended the golf played on Gil Hanse's unique and exciting design in Rio de Janeiro.
There were so many human moments during the week it's hard to capture them all even now.
Backed up on the 12th tee on Friday, Bubba Watson was taking selfies with fans along the ropes and handing out golf balls and pins to kids throughout the week; Martin Kaymer's caddie was razzing Danny Willett and calling for the crowd to clap and whoop it up for "OUR MASTER'S CHAMPION" while Willett looked like he was going to swallow his tongue. After the round when I asked Justin Rose to sign the Olympic score sheet, Henrik Stenson asked if I wanted his autograph too because he was the Silver Medalist (prior to this I'd never had the second place finisher do much more than leave the scoring trailer). And Bubba, Rickie Fowler and all three American women showed up to cheer on Matt Kuchar for finishing third – I mean, winning the Bronze.
This was a different week.
And a special one.
I had the opportunity to score some great rounds of golf, watch some of the best players of our time, and witness history being made. By the end of the first two days I'd scored the first Olympic hole-in-one thanks to Rose (who did it with a 7-iron from 187 yards on the 4th hole); walked 18 with Fowler now at the Walker Cup, the US Open and the Olympics; got to score Willett and Kuchar and collected signed golf balls as a thank you from them all; and befriended a retired Rio native serving along side me as a scorer who shared his life in stories over dinner at a fantastic Brazilian steakhouse.
That was even before the final round assignments came out and we learned I would be scoring my first ever last group in a Sunday final round: Justin Rose, Henrik Stenson and Marcus Fraser. As it turned out, the first Olympic gold medal match in 112 years.
There were 16 birdies on Sunday between them – including two on the opening hole and two on the closing hole (Rose birdied both en route to a 67) – and the weather was perfect. A slight breeze on the first tee picked up as we went along to make things more challenging on the backside, but the sun was out and they were playing before a sold-out gallery. By the time we made the turn, the 18th grandstand was already full and waiting for us. We saw a caiman on the 10th hole, a capybara wandering the fence on the back nine and a half dozen full-sized Union Jacks blowing in the wind on every hole.
Our funny joking around with Rose and his caddie on a practice round day earlier in the week that two of us were from Philadelphia and had both scored at Merion – the site of his U.S. Open victory – were something both he and his caddie would mention as we made our walk from the first tee, to the 18th green, to the medals podium that Sunday.
So even now, long after scoring that match (and all four rounds of the women's golf tournament), the voice of Rose's 7-year-old son through the phone remains indelible. There was joy and excitement that you'd expect, but something more… you could see it in the scoring trailer on Rose's face (who I believe wiped tears from his eyes as he sat down to sign his card). You could see it as his wife and mother stood there beaming with pride and emotion… and how they got choked up even talking to each other. And you could certainly hear it in the voices of his children as he put Great Britain's team tracksuit on over his golf shirt before going out to claim his medal.
Rose would later call it a magical week. What an honor it was to feel a bit of that magic in that moment.
At the time Rose was asking everyone he saw if Andy Murray had won Gold that afternoon… because of course he was part of a team that week, a team much bigger than Mark Steinberg his agent, Mark Fulcher his caddie and whatever else Team Rose looks like day in and day out. (Plus indeed, Great Britain had claimed the Country Club Golds that day after all.)
It seemed like of all of us, Rose had felt what the Olympics meant all along. And watching his face as they played "God Save the Queen," you got a sense golf in the Olympics might be here to stay.
So while it could have been fun to score Rory McIlroy instead of the long hitting youngster Seamus Powers (who I scored with Nicolas Colsaerts and Emiliano Grillo – with massive crowds from Argentina following us all day), I'm not sure it would have changed the Rose-Stenson-Kuchar medal stand. And maybe scoring Jordan Spieth instead of Matt Kuchar on Friday (who I scored with Danny Willett and Haotong Li of China) would have been different; it couldn't have been more special than it already was.
During the week I took in women's basketball with a friend from New Jersey and a lovely woman and her mother we'd met from Paris, we spent a night watching rugby sevens with some rowdy Texans and new friends from Sao Paulo, we watched diving with a few college girls from Arizona, and spent a night watching Gold Medal round wrestling. Sometimes we watched the Olympians and sometimes we watched the fans… fans from Iran, Spain, Mexico, Great Britain, Cuba, the US and everywhere else are much more the same than they are different. They all somehow got to Rio, they brought their noisemakers and their whole hearts and they cheered and yelled and made every venue we got to vibrate with passion.
To say I owe a huge debt of gratitude to all the men and women who fought to get golf into the Olympics is an understatement. To think I got to play a little part in such a major thing; to think I might have missed the Olympics altogether without golf's inclusion… But because these two weeks were as much about human moments as the sports themselves, I was lucky to have the opportunity to personally thank Peter Dawson, Gary Player, Ty Votaw, Ian Baker Finch, Paul McGinley, Gil Hanse and many others who walked the fairways with us every day.
This was a different golf trip.
And a special one.