Don't get me wrong; our 12-under wasn't quite the best score, but there's no doubt we won the Club Colombian Pro-Am in Bogota.
We'd been warned to expect a brief stop for lunch at the turn – we were NOT warned the day could turn into a 14-hour experience if we went all in on it.
We went all in.
Joined on the tee by a couple members of the host club – an investment banker and the CEO of a large advertising agency – along with a cosmetic surgeon with a charity focused on helping abused, burned and acid-attacked women, Talor and I had no idea what our day would entail.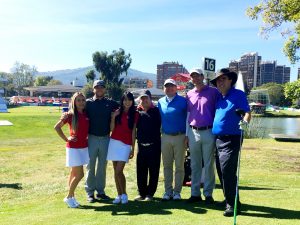 Three holes in, Christian of the public relations world, pulled me aside with a statement that was partly a question: "You are NOT a caddie, Mike."
"Wow it's that obvious, huh? That's not good. I should probably tend the flag more, right?" was my honest response.
He just laughed and laughed. A hole later he asked what I really did… and from there the conversation flowed among our entire group with noticeably greater ease than the air at Bogota's 8,600 feet.
With a 30 minute first lunch break we only managed 16 holes, but were invited (ordered?) to meet our hosts on the patio – where it turns out players and caddies were not permitted. There we embarked upon a nearly three hour lunch of freshly made chicharrones, various Colombian tapas, lovely fried bits we didn't ask too much about, varied different fruit juices, a massive platter each of "baby beef" just off the open flames from the outside grill, and at least three bottles of perfect afternoon white wine.
With just a bit of time for a much needed – and traditional – siesta in the hotel it was off to the sponsor / pro-am party at a raging three-story club downtown.
While there was only Club Colombia beer (the title sponsor of the tournament) and a sponsor's whiskey available for consumption, somehow Christian met us just inside the door with a bottle of French champagne (which never stopped flowing) and glasses.
A shockingly small number of pros made an appearance, but Christian took Talor around to every floor, posing him for photos with all the newspapers, magazines and television cameras present, and touting him as the next big thing on the PGA Tour, we think – our Spanish is unreliable.
It was yet another day in Bogota the lunch coupons I received at caddie check-in – where they told me to follow a dirt path behind the course's gas tank to eat each day and to "be sure you don't lose the ticket or you can't eat" – would go unused.